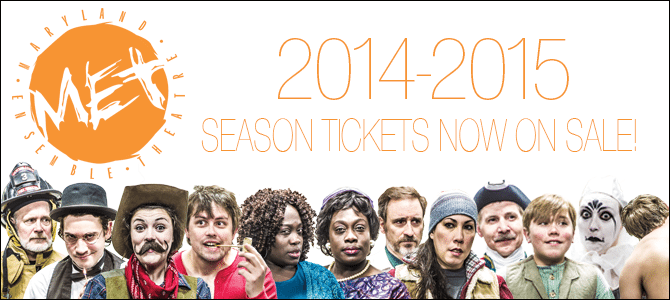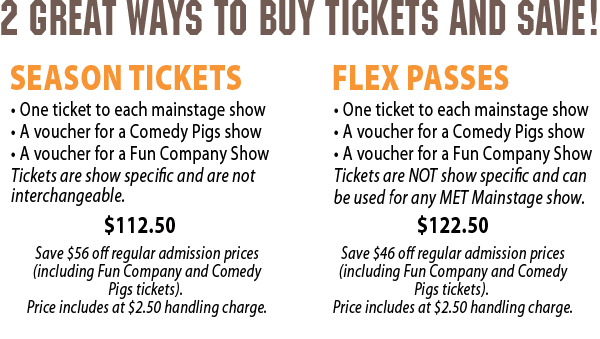 CLICK HERE TO PURCHASE SEASON TICKETS OR SCROLL TO BOTTOM OF PAGE
BY BRUCE NORRIS
DIRECTED BY PETER WRAY
SEPTEMBER 12 – OCTOBER 5
Preview September 11

Bruce Norris' witty new spin off of Lorraine Hansberry's Raisin in the Sun follows a Chicago household in 1959 as a black family plans to move into a predominately white neighborhood. The neighbors gather and try to convince the family to choose a different suburb. As the discussion heats up, the play switches to the same house in 2009 as the neighborhood has changed and gentrification has set in. This Pulitzer and Tony award winning satire takes jabs at everything from race to real estate. For mature audiences.
BY WILLIAM SHAKESPEARE
DIRECTED BY TIM SELTZER
OCTOBER 24 – NOVEMBER 16
Preview October 23

MET presents that well known western Twelfth Night, a Rootin' Tootin' Six-Gun Shootin' comedy by Wild Bill Shakespeare. The Town Marshal loves the Hotel/Saloon owner, but she'll none of him. She loves one of the Marshal's men, but he's a she and in love with the Marshal. Confused? Well, so are they. Come watch them sort it all out with fistfights and gunfights in the classic language of Shakespeare.


BY REINER PROCHASKA
DIRECTED BY SUZANNE BEAL
DECEMBER 5 – 28
Preview December 4

This original premiere, written by MET company member Reiner Prochaska, tells the story of a family living on a German farm in Frederick during the Revolutionary War. When they end up taking an escaped Hessian soldier captive, the soldier helps them rediscover love, hope, forgiveness, and the meaning of Christmas. For audiences of all ages.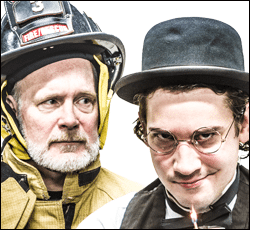 BY MAX FRISCH
ADAPTED BY ALISTAIR BEATON
DIRECTED BY GERARD STROPNICKY
FEBRUARY 13 – MARCH 8
Preview February 12
Fires are becoming something of a problem.  But Biedermann has it all under control.  He's a respected member of the community with a loving wife and a flourishing business, so surely nothing can get to him.  The great philanthropist is happy to meet his civic duty by giving shelter to two new guests but when they start filling his attic with petrol drums, will he help them light the fuse?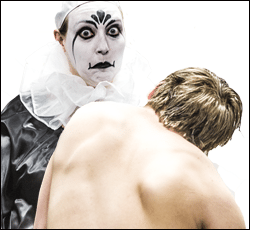 BY BERNARD POMERANCE
DIRECTED BY JULIE HERBER
APRIL 10 – MAY 3
Preview April 9
The Elephant Man is based on the life of John Merrick, who lived in London during the latter part of the nineteenth century. A horribly deformed young man, victim of rare skin and bone diseases, he has become the star freak attraction in traveling side shows. Found abandoned and helpless, he is admitted to London's prestigious Whitechapel hospital. Under the care of celebrated young physician Frederick Treves, Merrick is introduced to London society and slowly evolves from an object of pity to an urbane and witty favorite of the aristocracy and literati only to be denied his ultimate dream, to become a man like any other.


BY DAVID LINDSAY-ABAIRE
DIRECTED BY TAD JANES
MAY 29 – JUNE 21
Preview May 28
Welcome to Southie, a Boston neighborhood where a night on the town means a few rounds of bingo, where this month's paycheck covers last month's bills, and where Margie Walsh has just been let go from yet another job. Facing eviction and scrambling to catch a break, Margie thinks an old fling who's made it out of Southie might be her ticket to a fresh new start. But is this apparently self-made man secure enough to face his humble beginnings? Margie is about to risk what little she has left to find out. With his signature humorous glow, Lindsay-Abaire explores the struggles, shifting loyalties and unshakeable hopes that come with having next to nothing in America.
Select the package that best suits your needs. Each packet comes with it's own set of perks.  Upon receiving your online order, the box office will send you your 'subscriber card'.  You may order tickets and/or make reservations either online by selecting the 'subscriber/flex' pass option or by calling our box office and identifying yourself as a MET Subscriber, where you will be given the best seats available at the time.
SEASON SUBSCRIPTIONS
Season subscriptions include one ticket to all six Mainstage shows and a Comedy Pigs show all for only $110 (plus $2.50 handling fee).  After your purchase you will receive an email with all the information you need to reserve your seats. A $46 dollar savings over individually priced tickets!
SEASON FLEX PASSES

Want more flexibility? Then our Flex Pass is for you.  Flex Pass includes six tickets to use as you choose.  They can be used all for one show or split them up and take two people to 3 shows, etc.  Flex pass also includes one ticket to a Comedy Pigs show and one ticket to a Fun Company show all for only $120 (plus $2.50 handling fee). Save more than $30 off the regular box office prices!