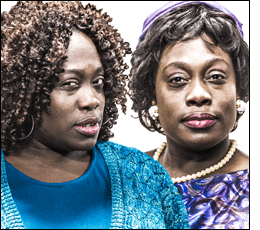 BY BRUCE NORRIS
DIRECTED BY PETER WRAY
SEPTEMBER 12 – OCTOBER 5, 2014
Preview September 11

Bruce Norris' witty new spin off of Lorraine Hansberry's Raisin in the Sun follows a Chicago household in 1959 as a black family plans to move into a predominately white neighborhood. The neighbors gather and try to convince the family to choose a different suburb. As the discussion heats up, the play switches to the same house in 2009 as the neighborhood has changed and gentrification has set in. This Pulitzer and Tony award winning satire takes jabs at everything from race to real estate. For mature audiences.
To purchase tickets, choose the date below.
FCC students/faculty with vouchers, please CLICK HERE to reserve seats
Hood College students please CLICK HERE to purchase tickets.
If you wish to purchase a combination of regularly-priced tickets with FCC or Hood tickets, please call our box office directly (301-694-4744) so that we can be sure to seat you together.