TRUST US: STREAM-ON, POP-UP, OR DRIVE-IN!
Season Subscriptions for MET's MainStage Series are flexible and affordable ways to save money while supporting Maryland Ensemble Theatre. Your purchase gives you access to MET before the general public.
SEASON TICKETS
Each Season Subscription includes access to SIX MainStage productions (live? Live-streamed? A film? A show on Zoom? Who knows? That's part of the surprise!), plus exclusive content from the Fun Company, and MET Comedy Night. Get previews of original works being developed for the season and behind the scenes content.
Season Ticket Price Per Person:  $100
---
[su_youtube url="https://www.youtube.com/watch?v=GPHcb49go6E" title="MET Season Of Surprises Announcement"]
Many have been wondering: how, during the age of "social distancing," can we safely pursue our mission of bringing live theatre to our community? How can we build community through our art if you can't sit together in a theatre?
Well, MET minds have been busy considering this question. MET always wants to surprise our audiences, so this year we are thrilled to bring you…
A Season Of Surprises!
You can't come to us, so we'll come to you. Stream-on, Pop-up, or Drive-in!
Trust us! We can, and will, create interesting, vibrant, and unpredictable art in this unprecedented time. We will stream some shows online, create a menu of short pop-up outdoor performances where we come to YOU, and create a live theatre experience where you can literally "drive-in" to see theatre!
We want to stay connected to you, our community. For MET to survive what could be a year without audiences in our seats, we need you! You could be an angel that helps keep Maryland Ensemble Theatre alive during this very difficult time.  Subscription opportunities will be available soon, please consider MET this year as a subscriber and let us surprise you!
Stream-on, pop-up and drive-in!
---

VICTORY IS WITHIN OUR GRASP
The first production of MET's 2020-2021 Season of Surprises, Victory Is Within Our Grasp celebrates the 100th anniversary of the ratification of the 19th Amendment and the courageous suffragists who joined the fight, in their own words. Featuring historic speeches from Lucy Stone, Susan B. Anthony, Clara Barton, and more performed by MET Company members Allison Duvall, Ray Hatch, Julie Herber, Jennifer Pagano, Lia Seltzer, Rachel Smith, Laura Stark, Tori Weaver, as well as Mikayla Domingo, Kiah Hyman, Carol Randolph, and Jean Rosolino.
CLICK HERE TO WATCH THE FULL SERIES!
---
Shakespeare's The Tempest
Directed by MET Associate Artistic Director Julie Herber, this production of The Tempest reimagines the show with a cast of eleven in a manner that is safe for performers and audiences alike, placing the sorcerer Prospero in isolation with the sprite Ariel performing live in an empty theatre, as a storm of scenes and external characters surround them on a series of screens that fill the space. Audiences will be able to safely join Prospero for multiple performances streamed live online this coming November.
William Shakespeare's The Tempest tells the story of Prospero, the sorcerer and usurped Duke of Milan who was betrayed by his brother Antonio and left in isolation on a distant island. With the help of his sprite Ariel, Prospero creates a tempest of his own to bring his brother, a shipwrecked crew, and the King of Naples to the island to exact his revenge. Meanwhile, Prospero's daughter Miranda discovers and falls in love with Ferdinand, the son of the King.
NOVEMBER 13-22 | LIVE on Youtube – Coming soon to stream!
---
A CHRISTMAS CAROL – THE AUDIO EXPERIENCE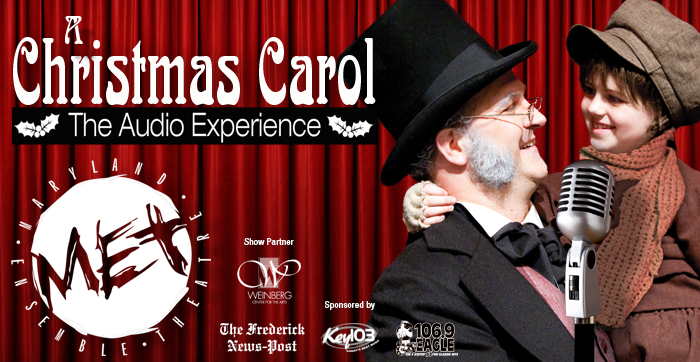 MET's FUNCompany has long produced its own adaptation of A Christmas Carol by Charles Dickens each holiday season at the Weinberg Center for the Arts. This season, MET will offer Frederick its tradition in a brand-new way, with the release of A Christmas Carol: The Audio Experience.
Ebenezer Scrooge, a miser of the first degree, thinks Christmas is a "humbug." When the spirits of Christmas Past, Present and Future come calling on Christmas Eve, Mr. Scrooge starts to see his life in a different light. This clever and heartwarming adaptation will delight listeners of all ages!
A hybrid between the radio drama of yesteryear, and the audiobook of today, this classic story is brought to life by a cast of 20 actors, led by MET's Producing Artistic Director Tad Janes as Scrooge. Narration is provided by veteran broadcaster and morning show host of Today's 97.5 in Martinsburg WV, Rona Mensah. Through this soundscape, audiences will be transported to a time when the whole family would gather around the radio to experience the defining tale of an old miser's redemption by three spirits. The sound effects and musical underscoring sets a spark fully engaging the listener and calling them to realize the action in their own imagination.
Produced in Partnership with The Weinberg Center For The Arts
---
Barbara And Gregory's 2nd Annual Holiday Bazaar Online!
After a disastrous first year helming their church's Annual Holiday Bazaar, Barbara and Gregory are desperate to redeem themselves the only way state guidelines will allow – with a jam-packed, holiday extravaganza… ONLINE! Tune in as they showcase the handiwork of local artisans, enjoy musical performances, and spread (or force-feed if they have to) good cheer to one and all.
---
Something Brilliant: The Rise And Fall Of The IllumiNation Cult
ABOUT THIS SHOW:
In 2007, the IllumiNation Cult took Frederick MD by storm. Weekly spaghetti dinner meetings were held, meatballs were consumed, and congregants were encouraged to CHARGE UP and share their brilliance. Members of this cult enjoyed blissful ignorance of the outside world, songs, community, and a chance to start again – until it all came crashing down when their Patrick Street compound was raided by the authorities. MET's Feature-length mockumentary tells the story of IllumiNation from the beginning, so viewers need not have attended the original stage production to enjoy this hilarious look at the ill-famed hometown cult.
---
Loving Frederick
An Interactive Zoom Show
LIVE on Zoom April 17-May 1
ABOUT THIS SHOW:
Loving Frederick is a unique collaboration with the Frederick community! Each week, our hosts will talk with different members of Frederick's diverse community who will share their knowledge of Frederick's history and their experiences living and loving Frederick. The live virtual audience will be able to ask questions of our guests and answer trivia questions. In addition to storytelling, the show will feature local music and art. Loving Frederick can't capture all of what makes this city special, but we'll share as much of our love for this community as we can fit into 50 minutes!
PLEASE NOTE: Every episode will feature different guests and segments to be revealed shortly for the full experience we recommend purchasing the three-show pass.
---
Midsummer: A Most Rare Vision
Directed by Julie Herber
An Outdoor, Immersive, Theatrical Celebration at ThorpeWood
12805-A Mink Farm Road • Thurmont, MD 21788
Midsummer: A Most Rare Vision is an immersive/environmental piece that is inspired by Shakespeare's A Midsummer NIght's Dream. The piece invites the audience, in guided groups, to journey through the beautiful hidden natural landscapes at ThorpeWood. Scenes, songs, monologues, physical theatre, aerial arts, and more, all influenced by the characters and themes of the Bard's most popular comedy, are brought to life in fields, ponds, trees, gardens, and wood. Each audience group will have their own unique performance depending on the path they are guided through. Our spectators will be immersed in a magical theatre experience that celebrates creativity and community.
PLEASE NOTE: This show will be taking place outdoors at ThorpeWood (12805-A Mink Farm Road • Thurmont, MD 21788), not at MET's Downtown Frederick Location.
Performances take place June 10, 13, 17 and 18 at 7pm, June 12 at 1pm, and June 13 at 2pm.
Masks required for unvaccinated attendees & Social Distancing per Local Health Dept. Guidelines.
Audience members are encouraged to wear comfortable walking shoes.
CLICK HERE FOR DIRECTIONS TO THORPEWOOD!
---