SCROLL DOWN FOR MORE SPECIAL EVENTS!
Tuesday, June 2, 6:30-8:30pm
Volt Restaurant • 228 North Market Street, Frederick, MD
Sneak Peak of the upcoming shows performed by Ensemble Members. Cash bar and complimentary hors d'oeuvre.
RSVP by June 1 to rsvp@marylandensemble.org or call our Box Office Manager, Lorrie Lee, at 301-694-4744.


Winner will be selected on June 2. You do not need to be present to win. Table 21 for 2 excludes alcoholic beverages, tax and tip. Advance reservations required.

 The Young Olympians and the Most Amazingly Awesome Adventure Ever!
May 30 & 31 @ 3:30pm
When the heroes of today are out of commission it is up to the heroes of the future to save the day. Perseus, Jason, Hercules, and Andromeda are heroes in training at Homer's School of Heroism and when the Gods of Mt. Olympus suddenly develop amnesia it is up to these four young friends to go on an epic quest to save the day and along the way they learn what it really means to be a hero.
Limited run featuring:
Lisa Burl, Kevin Cole, Brent Comer, Clay Comer, Caitlyn Joy, Ken Poisson, Thomas Scholtes and  Reiner Prochaska
Temple of Improv! (Toi!) will be presenting Hump Night! a night of Chicago-style long-form comedy improvisation, each Wednesday night beginning April 22. Hump Night! will be hosted by a few Toi! regulars (Joe Brady, Matt Kline, Giovanni Kavota) and features an ever changing cast of improvisers from Baltimore, Washington, Frederick and beyond!  Many of the performers have experience at iO, Chicago; UCB, New York; and WIT in DC.
Admission: $5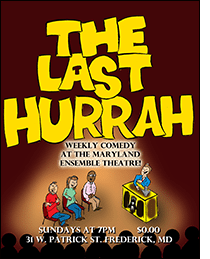 The Last Hurrah is a weekly comedy show presented by MET-X on Sundays at 7pm. Join Kevin Cole as he welcomes a panel of comedy writers, actors and special guests to discuss the events of the past week, life and whatever else comes to mind. Each episode is audibly recorded and released a podcast the following day. For previous podcasts click here.
Each Sunday @ 7pm
No shows 12/7, 2/15, 4/12 or 5/31.