SCROLL DOWN FOR MORE SPECIAL EVENTS!
---
Theatre for the Very Young
Ages 0-4
Saturday, July 23 & 30 @10am
Tickets $7
Theatre for the Very Young is a multi-sensory immersive, interactive, devised, and engaging experience meant to invite children to listen, to move, to empathize, and to play through not only their eyes but through all their senses.  Theatre for the Very Young is becoming more and more prevalent in the U.S.  It introduces 0-6 year olds to the power of art, expression, and creative play which is imperative to cultivate young imaginations–and imagination is everything!   
Go Go Garden is a gentle 30min interactive, immersive theatre experience for ages 0-4. A young girl goes out into her garden to play and is surprised by a friendly garden fairy who explores the wonders of the garden. They become fast friends and engage their young audience in 30 minutes of playful fun!
Click here to purchase tickets
---
BAD FICTION
by Jeff Keilholtz
Directed by Brandon Scott Boyd
July 14 – 24
Thu.-Sat @ 8pm, Sun @ 3pm
On the eve of a historic election for Attorney General, the play opens in a posh, loft apartment, where Internal Affairs investigator, Freddie Laurenzo, and Deputy Campaign Manager, Quincy Marcus, surround forensics expert, Janus Taylor – and her bloody, swollen face. Once joined by senior legal counsel for the campaign, William Fink – and over the course of one night – these four unlikely souls must endure epic consequences in the exposure of a major crime.
Tickets: $17 Adults, $14 Students/Seniors (Price includes all fees) All seats are General Admission.
Click here to purchase tickets
---
METLab: Plays in Progress New Play Festival
READING SERIES
11 DAYS OF BLOODY, BLOODY CARNAGE by Michael Perrie Jr.
July 21 & 29 @ 8:30pm
REASONS FOR RETURN by DC Cathro
July 22 & 30 @ 8:30pm
DORINA'S STORY by M.G. Stephens
July 23 & 28 @ 8:30pm
Tickets: $12 or Festival Pass for $40
COFFEE HOUSE READING SERIES
THE FUNERAL OF CASEY B. by Natalie Ann Peigari • July 20 @ 7pm
INVESTIGATION by David Nice • July 20 @ 7pm
THE ART OF THE SMILE by William Allen • July 27 @ 7pm
Tickets: No admission fee
(Find out more about these plays and  playwrights here!)

---
COMEDY PIGS SUMMER COMEDY EXTRAVAGANZA
August 5 & 6
Friday & Saturday @ 8pm
MET's resident improv/sketch comedy troupe, The Comedy Pigs, are back to bring a weekend of comedy in Frederick with an awesome line-up of improvisers and stand-up comedians from across the MD/VA/DC area. Both nights will feature completely different rosters of talent, with different forms of comedy, including short-form improv games, long-form improv, stand-up, sketches, and everything in between. More Extra! More Ganza! MATURE AUDIENCES ONLY.
Tickets : $17 (Price includes all fees)
Click here to purchase tickets.
COMEDY PIGS ANNIVERSARY SPECIAL
Saturday August 27 @ 8pm
The Comedy Pigs, MET's resident sketch and improv group, celebrate 24 years of laughter with this annual show that brings back many familiar faces and sketches. MATURE AUDIENCES ONLY.
Tickets: $22 (Price includes all fees. Proceeds from this show help to fund our upcoming season. THANK YOU!)
Click here to purchase tickets.
---
GULLIVER'S TRAVELS IN SPACE: THE MUSICAL
August 4-13 
Thursday-Saturday @ 7pm,
Saturday, August 6th ASL Interpreted Show
Gulliver longs to travel the galaxy and see new worlds, but trapped at home with a boring dad and a crazy uncle all Gulliver has been able to do is look to the stars and hope… until now. When Gulliver stows away on his uncle's spaceship he soon realizes he's in way over his head and that home sweet home might not have been all that bad. Gulliver's Travels in Space is MET's annual community collaboration with Frederick Community College and The Ensemble School.
Tickets : $15 adults, $12 students/seniors (Price includes all fees)
Click here to purchase tickets.
---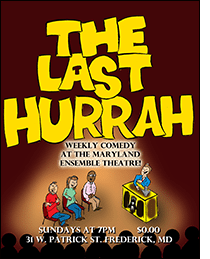 THE LAST HURRAH 
Every Sunday @ 7pm
Join Kevin Cole in his weekly comedy show presented by MET-X as he welcomes a panel of comedy writers, actors and special guests to discuss the events of the past week, life and whatever else comes to mind. Each episode is audibly recorded and released as a podcast the following day.
*Free admission
---